A Closer Look at Marcie Curry, Ed.D.
From the Windy City to the Paradise Coast
Chief Program Officer, School Age After-school Programs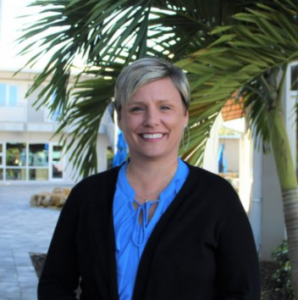 Marcie Curry is making an impact on the lives of youth. "Our holistic programming and location in Golden Gate make us truly unique from other education programs", said Marcie Curry. "Students who live here understand that we are able to offer the support they need for academic success," she added. "Families in Golden Gate experience unique barriers, and we meet those needs holistically by giving them the tools they need—whether it's English classes, early childhood education, tutoring, financial literacy, or food; we want to meet needs."
Marcie began her journey in Ohio, receiving her undergraduate degree in secondary education from Cedarville University. She worked as a high school English teacher. When asked why she chose to pursue a career in education, she said, "I have always been an avid reader, so it seemed like a logical next step to teach English." In 2000, Marcie and her husband Bill Curry left Ohio for Chicago, where they were hired as the first two educators for the youth organization Breakthrough. With little background in Urban youth programs, they accepted the challenge to launch Breakthrough's youth development program. The program started with Marcie and Bill working with 15 youth, and grew to over 40 staff, over 1,200 youth and programs in academic support, community sports, art classes, and STEM.
If that was not impressive enough, while raising three children, Marcie received a master's degree in educational leadership from Roosevelt University and a Doctorate degree in educational leadership from Concordia University. She then added the title of Adjunct Professor to her resume, teaching classes at three universities. At Grace Place, she is focused on "blending a wealth of experience while honoring the past and remaining future-focused on the next chapter for Grace Place. What stood out to her about Grace Place that made her want to join the team was the success of the family literacy model and the tag line of "Education Changes Everything". These things made Grace Place the right place for her next chapter.
Living and working in an urban community for over 20 years has given me good insight into the importance of diversity. I value that experience because that is something you cannot learn in a textbook. – Marcie Curry