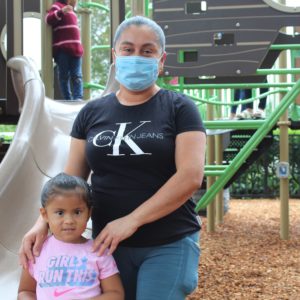 The holidays are well on their way and this year's holidays might look a little different for some of our families due to the increase of prices in grocery stores. As many of you know, supply chain issues have resulted in some empty grocery store shelves. Along with that, food pantries across the nation are predicted to face problems due to inflation. Experts say Thanksgiving 2021 could potentially be the most expensive meal in the history of the holiday season (New York Times, 2021).
Isabel Martinez, one of our Bright Beginnings alumna, has seen the effects of inflation first hand when buying groceries for her family.
"Every time I go grocery shopping I am seeing how every little thing is increasing by one or two dollars making my family and I have to choose between quality and quantity. Thanks to the food pantry at Grace Place, we have an array of healthy options for our meals. Seeing how our budget for the holiday season has drastically changed, we were not sure if a Thanksgiving meal was in the cards for us this year. However, we are eternally grateful that that will not be the case, and it is thanks to the Grace Place food pantry. I would like to thank everyone who works and organizes the food pantry every Friday, especially during this holiday season. My family, along with many other families here at Grace Place, will have a Thanksgiving meal thanks to your help." Click below to make a gift to help out our families this holiday season.