And Sew It Begins
The new school year is in full swing and our Bright Beginnings students are having fun in our new Sewing class! With help from our talented volunteers and donated sewing machines and fabric, our parents are learning the basics about sewing techniques, expanding their wardrobe, and most importantly, making garments that they will treasure forever.
Kat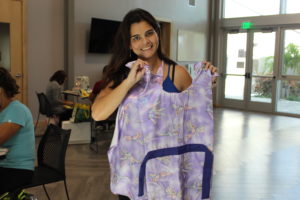 i, a third-year Bright Beginnings mom, shared the class was 'sew-sew' at first. "It was very frustrating, learning in the beginning," revealed Kati. "But once you keep trying and having 'a-ha' moments, it is pretty easy and a lot of fun!" Sewing has come so naturally for Kati, that she made two garments in one class period.  "I'm doing an apron for myself and a matching apron for my daughter," boasted Kati. "She always wants to match with her mama."
Grace Place volunteer, Helga first learned about our new Sewing class while volunteering in the Food Pantry. "Everyone knows my love for sewing," said Helga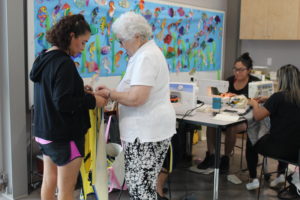 , "it's been a hobby of mine since I could remember." Helga regularly uses her sewing skills to help others. Every year, she makes quilts for the homeless. "I have about 65 quilts that I'm making this year alone." The longtime volunteer enjoys sparking that same passion with our moms. "Teaching these ladies doesn't feel like work. It's such an incredible bonding experience."
The new Beginnings 301 course is for parents who have completed Beginnings 101 and Beginnings 102,  and are interested in personal development and gaining applicable life skills.