Back to School Bash:
Students are Ready for the School Year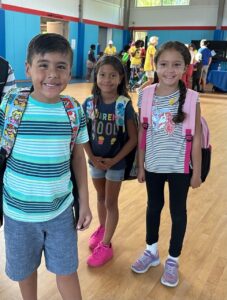 The families of Golden Gate could be seen lining up as early as 6 a.m. on Saturday, July 22, for the annual Grace Place Back to School Bash. Over 1,100 individuals flocked to campus to claim their free backpacks, chock full of school supplies. Over 650 backpacks (that's 5,000 lbs. of much-needed school
supplies) were distributed that day. From single backpack donations to deliveries by truck, our Grace Place followers rallied to make our backpack drive in June and July a huge success.
The Back to School Bash was not just all about backpacks, families who attended learned more about all the Grace Place programs and toured our campus. Everyone indulged in a pancake breakfast, snow cones, and popcorn. Plus, students chose from a wide assortment of donated books, had their vision checked and met our partners including the Naples Zoo, Conservancy of Southwest Florida, the Collier County Sheriff's Office, and more. Studies show that children having their school supplies provided can improve grades, creativity, attitudes toward learning, behavior, peer relationships, and self-image. Education is the first
step to overcoming poverty. A single pack of pencils and paper can help lead to a promising year. Our students are able to put their best foot forward knowing that someone cares about their academic success.
Thank you to the more than 30 volunteers who came together to ensure every child who attended the event left smiling with their backpacks in hand. Thank you again to all who donated!
Mark your Calendars:
The 2024 Back to School Bash is Saturday, July 20. Grace Place is looking for a Sneaker Sponsor for next year's Back To School Bash. If you know someone who is interested, please have them contact Colleen.Durham@graceplacenaples.org.