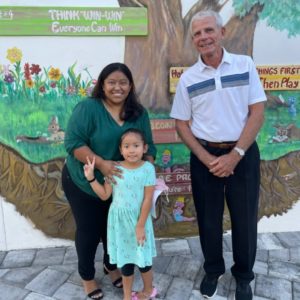 Investing in your future is no easy task; sometimes, bills or other expenses can prevent you from achieving your goals. The hard decision to use the money for bills versus things that would help advance your career can be a very daunting task. Thankfully, MicroGrant has provided low-income individuals with an opportunity to apply for a grant that they can use. Each grant assists in three categories; education, small business, and transportation. These grants can genuinely transform lives and help better ones' future. Fortunately, we were lucky enough to partner with them to help out one of our own, Olivia Angeles.  
Olivia Angeles is a very bright and hard-working individual who also serves as a leader in our Bright Beginnings program. Along with her work in the Bright Beginnings program, she has served as the President of our Parent's Leadership Council. As if that wasn't enough, Olivia is not only a working mother of two and a leader in our program but plans on becoming a Web Developer. In addition to her roles in our programs, she participates in many other networks that help achieve her goals. In her spare time, she focuses on completing courses to help build her portfolio.  
As you can imagine, Olivia always goes above and beyond to help progress in her career and attain her lifetime goals. However, one major challenge she was encountering was not having access to her own computer to complete many of these tasks. Nevertheless, she didn't let this stop her. Olivia continuously borrowed computers from our offices to complete her coursework. While it got the job done, it was still an obstacle she had in her way between meeting her end goal of becoming a Web Developer.  
With the potential of being awarded a grant, Olivia planned on using the funds to invest in a new computer. With a new device, she would have the necessary tools to become a Web Developer. Thankfully, Olivia was awarded a grant of $1,500, which she used to buy a brand-new MacBook. Olivia has since then used the computer to immerse herself in her studies to be a web developer and completed one of the required courses. She has also started her own craft business with her son creating another source of income for her family. 
It was the kind generosity of the donors at MicroGrant that helped to make this happen. This is only the start for Olivia. Her future plans include expanding her knowledge in Web development with the help of her new computer, along with investing more time into her future career. Thank you, MicroGrant, for making this possible! 
This month in recognition of Women's Small Business Month we are highlighting Olivia's small crafting and sticker shop business. She creates these custom crafts and stickers in collaboration with her son. Below is a link to her Instagram handle where she showcases her latest creations. Some of her work includes personalized gift baskets, handmade baseball caps filled with candy, along with customized t-shirts ad stickers. Olivia is currently accepting orders via direct messages on her Instagram @liv.n.crafts as well.
Find more of Olivia's creations on her Instagram linked here.