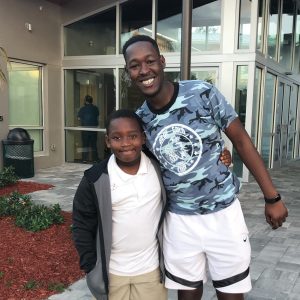 Grace Place had a special visitor recently when Will, the oldest sibling in the Alcius family, came to visit campus.
Will, his brother Keith, and his sister Louise were some of the first students to attend Grace Place. Now, almost fifteen years later, their youngest brother Jordan is enrolled in the Academy of Leaders afterschool program.
Will came to Grace Place to pick up his little brother from the program while he was in town visiting from Chicago, where he now works for a transport logistics company. He moved to Chicago two years ago, after graduating from Wittenberg University with a bachelor's degree in Business Administration.
Back when Will was involved at Grace Place it was just a homework club with a handful of volunteers­­ and a two person staff. Although Grace Place has seen considerable growth and program development since then, one thing was made clear by Will's visit—this special place in the heart of Golden Gate City has always made a deep impact on the families it engages. "Grace Place is a special place because it's not just a place where kids can go to get help with their homework, it's so much more," Will says. "Grace Place gives kids an opportunity to grow outside of the classroom."
Although Grace Place didn't have a structured middle or high school program at the time Will entered sixth grade, he recalls spending many hours at Grace Place during those years after elementary school. "The program wasn't as 'official' as it is now, but I remember always finding someone who would help me with my homework, or just talk to me if I needed advice. I volunteered a lot and my friends and I would play basketball there all the time," remarks Will.
He continues, "I was so happy when my brother told me he started the program at Grace Place. I think about him a lot. My other siblings and I are away now, my parents work, I'm so glad he has Grace Place to go to after school where he's working on academics and hanging with other good kids. I believe Grace Place will have a meaningful impact on him, as it did for me and my other siblings."
Will and Jordan's sister Louise and their brother Keith are both enjoying successes of their own. Louise opened a hair salon in Miami last month, and Keith is pursuing a graduate degree at the New England Conservatory of Music, one of the most distinguished music schools in the country, on scholarship. "I can still remember Keith going to Grace Place in the evenings. They would open up one of the rooms and let him practice his trumpet. My mother was very grateful," Will recalls with a smile.