Splashes of Hope Leaves A Colorful Mark on Campus
​A new, vibrant mural welcomes students, staff and volunteers thanks to our friends at Splashes of Hope. Dubbed "The Leadership Tree," the massive depiction, canvas? is seen just when you enter the Grace Place campus and the impressive project only took three days to complete. The Leadership Tree was first unveiled to our Academy of Leaders students and they were filled with awe and inspiration. "Woah! That is gorgeous," shouted one student.  "Hey that is our pledge," exclaimed another.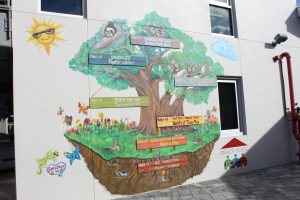 Images of bright butterflies, mischievous squirrels, colorful flowers and even an idle sloth surround a gigantic tree that rivals the Tree of Life at Disney World's Animal Kingdom. The mural also features the 7 Habits of Highly Effective People to remind students, staff and volunteers to be a beneficial leader. "It's been my pleasure and honor to meet such beautiful and wonderful people who do so much out here for the people in need and bring a smile to many hearts," said Chrissy, a painter with Splashes of Hope. Ethan Chang, a 14-year-old ambassador and fundraiser for Splashes of Hope, donated puppets and small gifts for some of our students. This small gesture affirmed to our students the importance of giving back.
Splashes of Hope is a 501(c)3 nonprofit organization dedicated to creating art to transform spaces, enrich environments and facilitate healing. Splashes of Hope has reached over 35 states across the United States, as well as internationally in France, Italy, Ukraine and now at Grace Place!