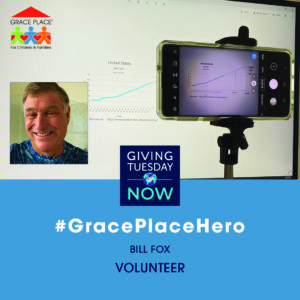 Bill Fox has volunteered with the high school LEAD program and has served as a Grace Place mentor for the past several years.  Karen Rodino, LEAD Program Site Coordinator, eagerly shared "Bill is always smiling, he has boundless energy, and his enthusiasm is infectious.  Bill treats everyone with respect and dignity and takes the time to make personal  connections with the students as well as the Grace Place staff because he sincerely cares for everyone."
Bill always goes above and beyond, continuously doing more than is required.  When Collier County Public School students began virtual learning two months ago, Bill realized that one of his tutoring students would still need some extra support.  Within hours, he utilized his technical expertise and crafted an adjustable stand for her cell phone so that it would stay in place while they worked on her math problems via video chats.
In addition to providing targeted assistance in math and science throughout the school year, driven by his love of robotics, Bill offered to teach robotics to LEAD program students. "Bill had excitement about what he could teach everyone but it never felt like he was teaching; it was as if he wanted to share this really cool thing with the students.  It was effortless," comments Rodino. In teaching this course, Bill had the innate ability to find out what kind of motivation each student needed to make the lesson relevant.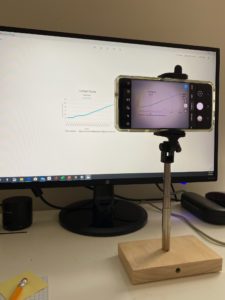 As a mentor, Bill invests time and effort into helping mentees pursue their interests.  The goal that he always seems to be working towards is the goal of inspiring our youth to become self-advocates for their learning.  In his capacity as a mentor, Bill is committed to helping his mentees succeed, achieve more, and continue into higher education.
Bill Fox, you are a #GracePlaceHero and we at Grace Place are grateful for your passion and devotion.