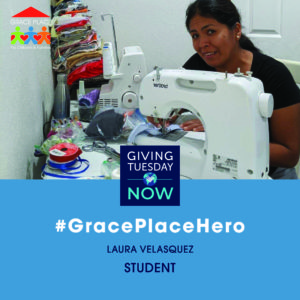 Laura Velasquez began her Grace Place journey seven years ago as a volunteer. In her fourth year, she joined the Bright Beginnings program with her son, Danilo. Today, she attends the Beginnings 301 course, while Danilo is thriving in the fulltime three-year-old class, and her daughter, Karen, is blossoming in the fulltime two-year-old classroom.
Beginnings 301 focuses on personal development and student empowerment by providing parents with life skills that nurture family self-sufficiency and sustainability. Life skills courses such as digital literacy, sewing, and workforce development provide students, like Laura, a hand up and an opportunity to focus on self-improvement. While Laura was no stranger to a sewing machine before the class, she has continued to hone her skills.
When the personal protection equipment started to become scarce, Laura put her skills to work. She began making masks from scrap fabric she had left over from the Beginnings 301 sewing classes. Once she depleted her supply, she has had to find fabric wherever she can, taking donations from friends and even purchasing it when possible. She reports that elastic has been especially hard to come by. Since she began a few weeks ago, Laura has made hundreds of masks. She has donated them to North Collier Hospital (NCH hospital), and to the volunteers, staff, and clients working the Grace Place food pantry.
Thank you Laura, for helping to keep those on the front lines safe. You are a GracePlaceHero!