Ideas Come to Life at Grace Place's Invention Convention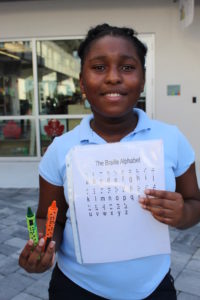 Imagine an easier and perhaps improved life with tools like a "Braille Crayon", a "Solar Smartphone" or a "Book-a-tron." The Academy of Leaders Elementary Students went beyond an idea and brought these tools to life. Fueled by their curiosity and imagination, the 4th and 5th graders came up with creative innovations and eagerly showcased them to fellow students and staff at Grace Place.
"These crayons have braille letters on them so everyone has the opportunity to color," said Kayla, a kindhearted inventor. "You see this is the color orange and it says 'orange' in braille on the side of the crayon," explained Kayla. "I have a girl who is blind in my class and I want to help people like her. I don't want anyone to feel left out."
Giovanni came up with a practical invention that makes us all say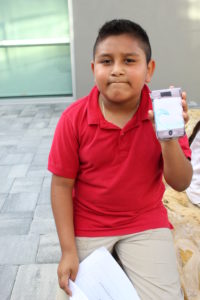 "Now, why didn't I think of that?" With a prototype in his hand, Giovanni described his invention to his peers. "This is a Solar Smartphone. You don't need a charger when your battery is low since it uses the sun to charge it," said the 5th grader. "I came up with it because I always hear people complain that they forget their charger. Now they won't have that problem anymore," he said. "I'd like to think Apple would be interested in doing something like this."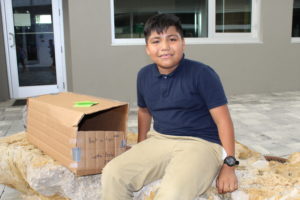 Then there was Hector, a resourceful bibliophile who realized he didn't have a designated place to house his prized book collection…until now. "This, ladies and gentlemen, is a Book-A-Tron," said Hector proudly. "A Book-A-Tron is a special place to put all your books" he said. "You can bring the Book-A-Tron everywhere you go and it will protect all your books."
From slime to Fortnite maps, excitement ran high as students congregated over each invention and conversed about different problem-solving tactics and solutions. Our students beamed with so much pride sharing all of their amazing designs, creations, and inventions. A big congratulations to all our student inventors!
The 21st CCLC Academy of Leaders elementary after-school and summer program provides academic and youth development programming for kindergarten through fifth grade students that attend Golden Gate Elementary School. We also offer the free program to middle and high school students that attend Golden Gate Middle School and Golden Gate High School. The program's design incorporates all elements of proven highly-effective after-school program models and prepares our students for post-secondary education and career readiness. The Academy of Leaders works to improve student academic achievement, personal development as well as leadership development and family involvement.