Our Students Celebrate Afterschool Programs in Nationwide Event
Uncooked spaghetti, marshmallows and tape. No, this isn't your average arts and crafts exercise. In coordination with Lights On Afterschool, our Academy of Leaders put their engineering skills to the test and attempted to build the highest tower possible out of uncooked spaghetti, marshmallows, and tape. Lights On Afterschool is the only nationwide event celebrating afterschool programs and their important role in the lives of children, families and communities. Grace Place is a proud to participate in this one day event and honored to offer a variety of activities to our afterschool students year round.
The Marshmallow Challenge is a popular STEM (Science, Technology, Engineering, and Mathematics) project that is suitable for kids of all ages and even adults.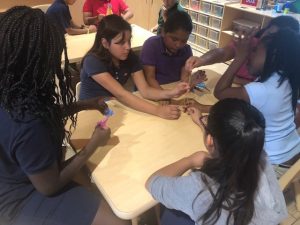 In a race against the clock, students worked in competing teams to build the tallest and unsupported structure. "Ready… Set… GO!!" shouts Ms. Quela from across the room. "You have 20 minutes!" The students scurried and huddled over the table and started throwing different design concepts at each other. "We need a foundation!" yelled one student. "I did this at school, let's use tape to hold the bottom!" exclaimed another. This exercise encouraged a discussion of different ideas and facilitated team building skills. This practice is Habit 6- Synergize, from The 7 Habits of Highly Effective People. This habit boosts creative cooperation, teamwork, open-mindedness, and the adventure of finding new solutions to old problems. The combination of people's strengths through positive teamwork achieves goals that no one could have done alone. When the 20 minutes were up, students compared each team's tower and discussed what steps could have been done differently in order to succeed. The Marshmallow Challenge was not the only activity during Lights On Afterschool. Other students read books to one another, work on homework and/or played tag outside.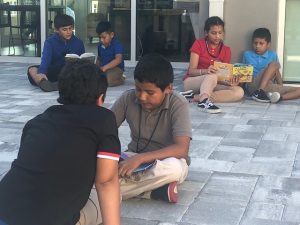 It is incredible to see what the power of 20 dried spaghetti and a marshmallow can do to a group of elementary school students as well as simple task such as group readings or doing homework afterschool. Poll results show that vast majorities of the public across gender, race, age, regional and party lines consider afterschool programs important to their communities. Lights On Afterschool focuses attention on the urgent need of afterschool programs and this year the program hosted 8,300 events nationwide. Grace Place is pleased make a small role in this nationwide effort and a big role in our community's everyday lives.