MEET ARLETYS GOMEZ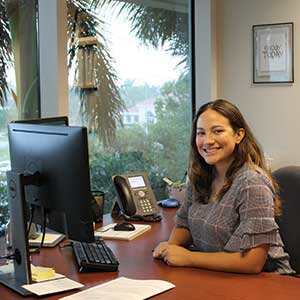 Arletys started coming to Grace Place in 2010. After being introduced to the organization through volunteering, she enrolled in the AP Leadership program. There she gained access to College Access Workshops, ACT preparation classes, college visits, job skills training, and a mentorship program. She learned leadership skills, formed life-long friendships, and found a new level of confidence within herself.
In May 2014, Arletys was awarded a Grace Place Jubilee Scholarship – a four-year scholarship to Florida Gulf Coast University presented to two Grace Place students per year. Through this life-changing opportunity, Arletys and her parents were relieved of an impossible financial burden for their family. Arletys was able to focus on her schoolwork and to get involved in her community. She developed a passion for giving back and became Director of Civic Engagement for Student Government.
After she graduated college with a 3.9 GPA, Arletys decided to make a profession of giving back and pursue a career in nonprofit work. In June 2018, she accepted the position of Grants Coordinator at the Naples Children and Education Foundation, founders of the Naples Winter Wine Festival.
Arletys now spends her days dedicated to improving the quality of life for the children of Collier County through her work with the Foundation, helping other children receive the opportunities she was given.
---
Meet Arletys in person and hear more about her journey of success as she presents at this year's A Swing of Grace!