Through Dramatic Play, Children Prepare for the Real World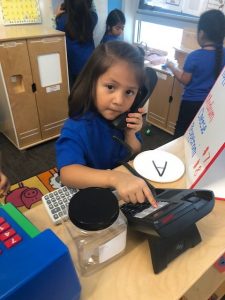 A group of preschoolers playing pizza shop may seem like a simple afternoon of clean fun, but they're engaging in a positive learning experience called dramatic (or pretend) play.  The process of "pretending" builds skills in many essential developmental areas and offers proven benefits in children's cognitive learning. Through dramatic play, they learn how to take turns, share responsibility and creatively problem solve. Children also are actively experimenting with the social and emotional roles of life.
The Bright Beginnings students opened up their pizza shop which was fully staffed with cooks, cashiers, and deliverers. "This is real life stuff, this is good practice for their future," said Ms. Henri, the class' Bright Beginnings teacher. Just like a real pizza shop, someone answered phone calls and took down takeout orders. Then, cooks made "pizza" according to what the customer ordered. Working with small materials such as pizza toppings, promotes fine motor skills and hand-eye co-ordination. The children used different plates with single letters "S" "M" or "L" representing small, medium or large pizzas, which was great practice with the alphabet. The cashiers used play money to practice numbers and social communication, which made this pretend pizza shop into a realistic experience.
The four-year-old students synergized, and were collectively focused with the end result in mind. The result being getting pizzas in customers' hands. Beginning with the end in mind and synergy are habits in Franklin Covey's The Leader in Me process. These habits give the ability to work together and to envision what cannot be physically seen presently. A mental picture is the blueprint for a completed, physical outcome. The preschoolers successfully delivered all their pizzas!
So, who wants pizza?