Parents get a lesson in Wildly Important Goals
Our Elementary Academy of Leaders recently invited their parents to an after-school Student Led Conference in our classrooms. Dozens of elementary students wrote down and decorated their Wildly Important Goal, or WIG, with colorful crayons and construction paper. Those students proudly flaunted their artwork to their parents and discussed their Wildly Important Goal. Following Sean Covey's "The 4 Disciplines of Execution," instead of trying to achieve multiple goals at once, focusing on one, attainable goal is the most effective. Students also shared their mission statements and completed a Leader in Me activity with their parents.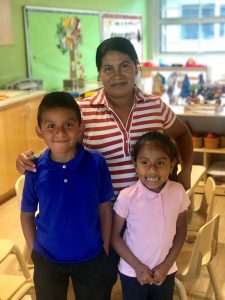 Wilmer and his mom, Olga, were among the dozens of families participating in our Student Led Conference. Wilmer is an enthusiastic 4th grader that gets a thrill from learning. "My Wildly Important Goal is to know all the 50 states by December of this year," says Wilmer. Olga has been bringing Wilmer to Grace Place since he was in kindergarten and is grateful for Grace Place and its programs. "I come home every day at 7PM and the kids have their homework done," says Olga, "it is a tremendous help." Wilmer isn't the first in his family to attend Grace Place. His young sister Melanie is also in Academy of Leaders and his older siblings excelled through our programs and often volunteer at Grace Place. Wilmer has a strong command of the English and Spanish language so learning the 50 states will be a piece of cake! We cannot wait to see what Wilmer's next goal will be.
This exercise encouraged positive parent to child interaction. Parent engagement or family involvement is a key component in Stephen Covey's "The Leader in Me" model. It enforces positive parenting and ensures a high level of adult family member participation and integration into their child's education. Most of our parents learned English as a second language, so as an added bonus, it was an opportunity to better learn and practice the language to better prepare them in the workforce.
Megan Cashour is our 21st CCLC Academy of Leaders Elementary Site Coordinator. "We were thrilled to see so many parents attend our Student Led Conferences. Giving our students the leadership opportunity to teach their parents and siblings about their Wildly Important Goals and classroom mission statements is incredible. Families enjoyed seeing first-hand what their students are involved in on a daily basis here at Grace Place," says Megan, "I am so proud of all our students."
The 21st CCLC Academy of Leaders elementary after-school and summer program provides academic and youth development programming for kindergarten through fifth grade students that attend Golden Gate Elementary School. We also offer the free program to middle and high school students that attend Golden Gate Middle School and Golden Gate High School. The program's design incorporates all elements of proven highly-effective after-school program models and prepares our students for post-secondary education and career readiness. The Academy of Leaders works to improve student academic achievement, personal development as well as leadership development and family involvement.