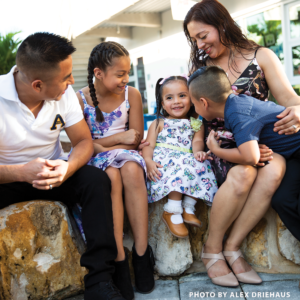 It wasn't long after she came to the United States that Emelida met Jesus. She was cleaning houses at the time. He worked as a cook in a little market she frequented for lunch. "He would ask for my number every day," Emelida recalls with a wide smile. "I resisted at first, but eventually I gave him my number, and we went out." They were married that same year. A year after that, they had Emely. Two years later, Marley was born.
By then, Jesus had left the little market for a higher paying position at Mel's Diner. Emelida had her hands full at home, raising two children under the age of three. When Emely started to approach the age to enter kindergarten, Jesus and Emelida recognized the necessity to enroll her in an early childhood education program. Jesus and Emelida spoke very little English themselves and never at home. Emely rarely heard the language, and Jesus and Emelida worried she would struggle throughout school if they did not give her a strong start. Looking to their community for advice, Jesus's sister recommended Grace Place.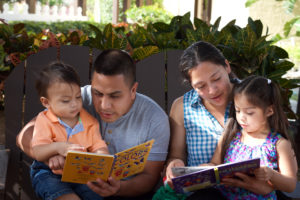 The first year of Bright Beginnings, they came as a family – Jesus, Emelida, Emely, and Marley. They had perfect attendance. "It was important to my husband and me that we be punctual. We understood the gift our family was receiving, and we wanted to be respectful of that," Emelida explains.
You see, Emelida had a different start in life than the one she was determined to give her children. Her family had a small farm in rural El Salvador. She was the fourth oldest of ten children. After the third grade, she was needed at home to help on the farm and take care of her younger siblings. She wasn't able to return to school until the age of twenty. She would sometimes work 11 hour days on the farm and then study at night. It was after she'd completed the ninth grade, seven years later, that she decided she had bigger dreams for herself and her future. "I didn't want to work on my family's farm for the rest of my life. I didn't want to have children and watch them work on the farm their whole lives."
As the family continued in the Bright Beginnings program, the time commitment increased from one day a week to two, and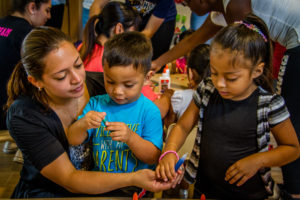 then to four. Although Jesus was working and unable to remain in the class, Emelida and the children remained committed.
After Emely began kindergarten, Marley and Emelida continued in Bright Beginnings. By the time Marley entered kindergarten, he'd spent four years in the program. "I can see the difference between my children's experiences in school. Emely is very smart, but Marley knew more when he started kindergarten. He was better prepared," Emelida lovingly remarks. "And it's not only my children. I learned English and I have learned how to support my children in their learning. When I became pregnant with our third child, Alexa, there was no question that we would return to Grace Place."
Alexa and Emelida were enrolled in Bright Beginnings when COVID-19 shut down the Grace Place campus. In an instant, Emelida needed to be the primary facilitator of all three of her children's educations. Because of her hard work in the Bright Beginnings program, she was prepared to fill that role. "It was tough. We live in a small apartment. I had to create separate spaces for Emely and Marley. Sometimes they would be in classes at the same time, and I knew they needed to listen and concentrate. I would also be working with Alexa on our assignments from Grace Place. At night, I would work on my English classwork," Emelida shares. "We all worked together. I couldn't have done it without what I learned at Grace Place."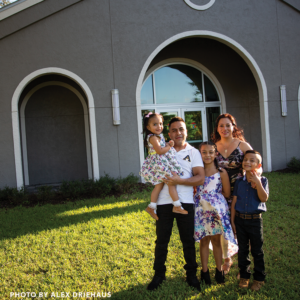 Emelida and Jesus have chosen to keep their children home the first semester of the school year. Emelida and the children have developed a structured schedule and identified workspaces for each child in the household. Emelida and Jesus plan to send them back to school in January if the situation improves. In the meantime, Emelida continues to help her children develop a strong foundation for lifelong learning. "Our dream is that our children are academically prepared to choose a career where they will be afforded better opportunities and not have to work jobs like we do, cooking and cleaning," Emelida shared with tears in her eyes.
Nelson Mandela said, "Education is the great engine of personal development. It is through education that the daughter of a peasant can become a doctor, that the son of a mineworker can become the head of the mine, that a child of farmworkers can become the president of a great nation. It is what we make out of what we have, not what we are given, that separates one person from another."
While Marley is still undecided, and Alexa is only learning to talk, Emelida reports that Emely thinks she might like to be president someday.
This story was featured in our 2020 Impact Report. Read the full report here.