For the fourth consecutive year – the Community Foundation of Collier County and the Richard M. Schulze Family Foundation partnered to present Give Where You Live Collier. Grace Place was again selected as one of 38 nonprofits in Collier County to participate in this community-wide day of philanthropy.
Over the past few years, the families we serve have overwhelmed us with inspiration by starting a collection to participate in this day of giving. This year, the younger students in the after-school program wanted to get involved in the joy of giving back, so they decided to have a Penny War with all the proceeds going towards Give Where You Live Collier! In total, Grace Place families donated almost $500
We are so touched by their generosity and desire to participate in this philanthropic event!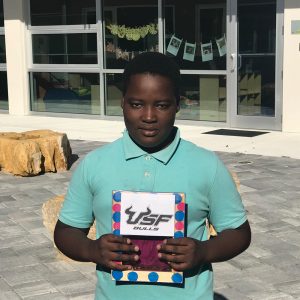 Meet Kerby
Kerby is a fifth grader in our Academy of Leaders after-school program. He enjoys math, soccer and reading fiction books and he was one of the first students in the after-school program to contribute to Give Where You Live Collier.
At the beginning of the school year, Kerby was frequently in trouble, and was not making the best choices. Today, Kerby has not only completely changed his attitude and behavior, but is thriving here at Grace Place.
Kerby says that he made the switch for a few reasons. He mentions one of the lead program assistants, Javier, who he feels is an inspiration to him. "Mr. Javier gives us advice and helps us become better at making decisions. He has helped me a lot this year." He also credits his desire to please his hardworking mother. "I realized that I want to work hard for my mom. She works so hard and wants me to have a good life."
Kerby is very proud of the strides he has made this school year at Grace Place. "I am so happy that I am sticking with the right friends and making good choices, and making my mom proud," Kerby says of his new attitude.
We are very proud of you too Kerby!
Below are some of the change makers that contributed to this year's event…