It's a Holly, Jolly Christmas at Grace Place!
All week long, families, staff, and volunteers hosted Christmas themed events and brought the Christmas Spirit to our campus for all our amazing students.
To kick off the festivities, our Bright Beginnings moms hosted a special Christmas presentation and impressed staff and volunteers alike. With infectious, radiant smiles, the moms shared with the group their Christmas traditions and sung Christmas jingles entirely in English. The crowd clapped and sang along with the ladies and even asked for an encore.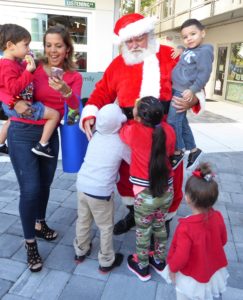 The Bright Beginnings families had their Christmas Party where kids dashed from station-to-station playing different games. A student choir from First Baptist Academy serenaded the families with Christmas carols as the festivities commenced. Suddenly, all the kids stopped in their tracks when Santa Claus made a surprise visit. Sitting on a big chair by our Christmas tree, Santa spoke to each child and made a request for homemade chocolate chip cookies.
Grace Place parents lined up for our annual Christmas Shop to pick up exciting toys for their own children.  Cecilia, a Bright Beginnings mom, thanked volunteers as she left with a big bag of toys in hand.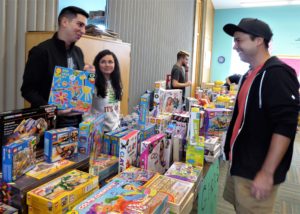 Cecilia and her two daughters have been coming to Grace Place since 2014. "The Christmas Shop is great! My husband and I just bought a home a couple of months ago and money is tight, having the chance to get our daughters' Christmas gifts here is very helpful," explained Cecilia. "Getting pajamas is an added bonus!"
To conclude the week-long events, our Grace Place alumni paid a visit to discuss college life in a panel with current high school students. In the candid conversation, students discussed courses, time management, dealing with roommates and living away from home. Then both alumni and students celebrated with Christmas activities and watched the movie "Elf" together.