"You've won the Jubilee Scholarship."
Five words that changed Karen Merillien and Marlen Hernandez's lives forever.
The Jubilee Scholarship, a four-year "full ride" to Florida Gulf Coast University (FGCU), is offered exclusively to two Grace Place AP Leadership students each year. The scholarship includes all tuition costs, books, housing and a living allowance so students can focus on academics. It is a distinguished honor and a life-changing opportunity. This year's recipients, Karen and Marlen, could not be more deserving of this prestigious award.
Both of these young women have struggled. Both of them have worked far harder, and held far more responsibility, than the average teenager. When other students their age were worried about who did or didn't "like" them, or what they were going to wear to school tomorrow, Karen and Marlen's concerns were much more serious. "Will my family be able to pay both this month's rent and utilities?" "How will I ever pay for college?" These questions weighed continually on their minds.
All the late nights studying, weekend social activities missed, grueling hours of extra homework and countless clubs were worth it. Never again will Karen or Marlen worry it was all in vain because they won't be able to afford college in the end. Their financial barriers have been lifted and they have been empowered to reach their full potential, thanks to generous allies in our mission to provide pathways out of poverty through education.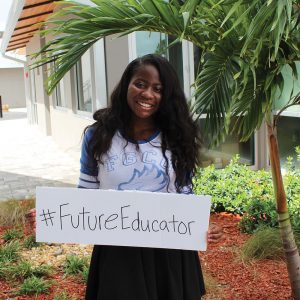 MEET KAREN
At the young age of seventeen, Karen knows the meaning of "living paycheck to paycheck" all too well. Her mother works two jobs as a Certified Nursing Assistant and her father has been a banquet server at local hotels for eighteen years. No one can say they aren't hard workers, but their incomes are not always enough to support Karen, her two siblings, and their extended family who live with them. There have been many times that Karen has had to contribute her own paycheck to help keep the household solvent.
Despite hardships and the weight of financial burdens, Karen's family has always placed a priority on her and her siblings' schooling. Karen's mother, especially, instilled in her a deep appreciation of the power of education.
On top of working two jobs, Karen was dual enrolled at Golden Gate High School (GGHS) and Florida SouthWestern State College (FSW). Her extracurricular activities included Grace Place's AP Leadership program, College Reach-Out Program, Key Club, Student Government, Cheerleading and Marching Band. She accumulated over 130 volunteer hours, giving her time in our Academy of Leaders afterschool program, at Project Unify and serving on the Make-a-Wish Foundation's Youth Leadership Committee. At FGCU, Karen plans to earn a bachelor's degree in Early Childhood Education before pursuing a master's in education.
MEET MARLEN
Despite obstacles, Marlen set her sights high from the start. Like Karen, Marlen was also dual enrolled at GGHS and FSW, and was the recipient of the Outstanding Achievement in Dual Enrollment award in May 2017. On top of maintaining a 5.02 weighted GPA, her extracurricular activities included the National Honor Society, Spanish Honor Society, Grace Place AP Leadership program, KidsCAN and soccer. She volunteered at the Domestic Animal Shelter, Grace Place,  Naples Zoo and St. Agnes Youth Group, amassing over 120 volunteer hours. At FGCU, Marlen plans to explore different fields of nursing while pursuing her degree. After she graduates college, her intention is to remain in Collier County so she can give back to the community that gave so many opportunities to her and her family.
When she graduated GGHS in May, she ranked eighth in her class of over 360. Marlen is an impressive and gifted young student who, in the face of adversity, remained steadfast in her resolve to commit to her studies.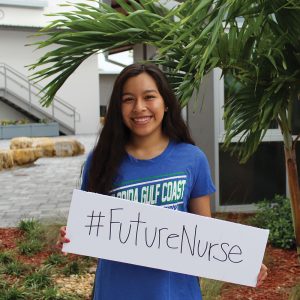 The AP Leadership program aims to eliminate the obstacles to higher education that students from families with low-incomes face. Beyond the opportunity to win the Jubilee Scholarship, students in the program receive assistance navigating the college application process and identifying scholarships, college knowledge workshops, college visits, mentoring, ACT preparation, and many more resources to access post-secondary education.
Now, thanks to the support and love of their families, and the transformative AP Leadership program, Karen and Marlen will have the chance to meet their full potential, build prosperous and fulfilling careers and lives, and pay it forward to a new generation.
"I am going to college." Five words that changed two lives this spring, thanks to you.