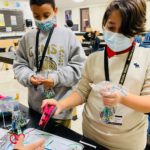 At the start of the year, our middle school students were busy creating kindness rocks. Their intention- to spread kindness and love to our elementary students. Kindness Rocks are rocks or stones that are painted with inspirational messages or sayings. Our students shared words of wisdom and comfort before sharing them with our elementary students. Valendjie's reason for making Kindness Rocks was simple, "If we didn't spread kindness, the world would feel empty, and no one would have joy. We'd feel so down". Valendjie and her classmate's Kindness Rocks brought joy to our elementary program.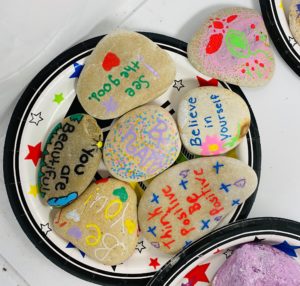 Their acts of kindness did not stop there and continued to spread. As a group, they decided to make Care Packages for the elderly in our community. When asked why they choose this as their next project, Jennifer answered, "We want to do something to show them that we care about them and we see them." Working together with the Naples Senior Center, they identified various sought-after items that were needed the most. Students decided that their Care Packages include hand sanitizer, personal hygiene items, night lights, magnifying glasses, flashlights, and a card. Their kindness will spread throughout our community as these Care Packages will be delivered later this month to the Naples Senior Center.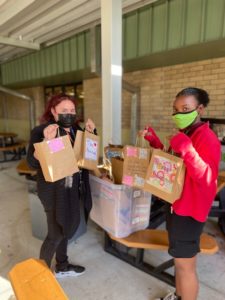 These acts of kindness have not stopped at our middle school students. Many community members have recently come together to provide additional food, books, toys, and gift cards to our programs' families. These acts of kindness have filled our families with gratitude and appreciation. Axa Rivas, a mother in the B201 program, shared, "Grace Place their donors, volunteers, and all the people who work here are very special to us." So special that Axa and her classmates wanted to thank everyone firsthand. With their English teachers' help, they wrote thank-you notes to those who made "Christmas much more special," as Karla Ribeiro, B201 Student, exclaimed.
It started with a message on a rock, and kindness is spreading throughout campus. We cannot wait to see who or where we will find the next act of kindness on campus!